I kept waiting for my other blog friends to post this...and for the news to report it---NADA!!
I heard about the the late term baby killer -Tiller - ad nauseum...
James Paullion was a gentle man who stood for LIFE---
Can you believe the take of a 16 year old student >>>
"I can see someone spitting on him or punching him,

but shooting him is pretty stupid," said 16-year-old Curtis Wisterman.
My TAKE-
anyone who punched or spit upon him should have been sued
!!!!!
The Dark Side does it all of the time!!!
Notice -too- the wording of the news article --"anti-abortion"...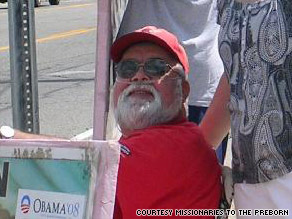 Activist Jim Pouillon was shot and killed Friday while protesting outside Owosso High School.
Authorities say the suspect, Harlan James Drake, was offended by anti-abortion material that the activist had displayed across from the school all week.
http://www.cnn.com/2009/CRIME/09/11/michigan.shooting/index.html
UPDATE: Shoprat - my Michigan blog friend-did post it Saturday!...