The photo was dated 1943 as a LT. ---and one w/ a BT 13 dated 1944...
I looked up when the Army Air Corps became the US Air Force...this is what I found....
I am SO GLAD that I found the above---because-unlike most days - I had time to research a passion of mine-HISTORY - and now- family history- and - of course-AIR PLANES!!!!!
United States Army Air Corps
United States Army Air Corps Seal
The
United States Army Air Corps
was the predecessor the
United States Air Force
(USAF) from 1926 to 1941. The
Army Air Corps
is also a current subordinate element of the
United States Army
and is unrelated to the original USAAC.
Passage by
Congress
of the
Air Corps Act
of 1926 established the U.S. Army Air Corps on
July 2
,
1926
, replacing the
United States Army Air Service
, established
May 24
,
1918
. The Chief of the Air Service, Maj. Gen.
Mason Patrick
, then became Chief of the Air Corps.
During
World War II
the role of the Air Corps changed. In 1941, as part of a re-organization of the Army along functional lines, the
United States Army Air Forces
(USAAF) was established on
June 20
,
1941
. The Air Corps then became a subordinate part of the USAAF as a combatant arm (as
Infantry
and
Artillery
were subordinate combatant arms of the Army Ground Forces). The required Congressional disestablishment of the Army Air Corps itself did not occur until
1947
.
The
Army Air Corps
is an administrative corps of the U.S. Army and was established in 1987 and serves to organize, train, equip and operate the Army's light aircraft and helicopter assets. The Army Air Corps was formed by renaming the Army Aviation Branch which was established during the 1950s. Its primary function is the tactical support of the army by providing tactical close air support and transport services. An updated version of the
Key West Agreement
governs the division of responsibility for air assets between the Army and the Air Force (the Army is precluded from operating
fixed-wing
aircraft in the
airlift
or
close air support
roles).
See also:
List of military aircraft of the United States
the BT-13 awesome...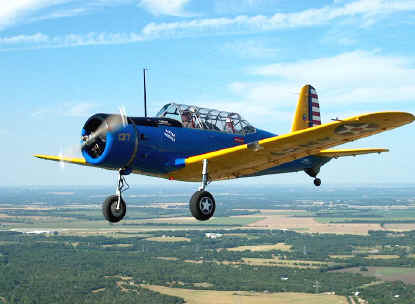 BT-15 photo by Col. Harlan Short. Used with permission of Commemorative Air Force, Dallas-Fort Worth Wing.
History: With retractable landing gear and a powerful engine, the Vultee V-54 basic combat trainer was too lavish for the cash-strapped United States Army Air Corps of 1938. So Vultee redesigned the aircraft and made it less complicated. The first order for 300 new BT-13 Valiants was placed in September of 1939, and it would become the most widely-used American training aircraft of World War Two.